As the recipient of the 2014 HTN Peter Howard Future Chef Scholarship Jessica Jandric shares her experience with us.  Jessica had the opportunity to spend several days in Canberra working with HTN Host Businesses as well as go on tours with HTN Industry Advisor Tom McDonnell.
---
On the 13th of April 2015, I took a flight to Canberra, where Tom McDonnell met me at the airport ready to take care of me for my 5 days of work experience in the Capital.
Our first two destinations were the Kiwi Kitchen and the National Press Club of Australia where I was going to be working in this week. I met Vanessa from the Kiwi kitchen, a lovely lady with a big personality who loves working in her pastry and dessert catering kitchen. We then visited the National Press Club where I would be working on Wednesday and Thursday with Darren Tetley and his chefs.
We then drove past the Anzac parade to the War Memorial where I got to see all the memories from the war. This was a very new and interesting experience.
Tom then dropped me of at the Forrest Hotel and Apartments in Forest, Canberra where I stayed for 5 nights.
On the 14th April 2015 at 8:30am Tom drove me to the Kiwi Kitchen where I would spend 4 hours learning new techniques of how to make and decorate desserts and pastries. I learnt how to make cheesecake and chocolate ganache and even got to help decorate some cakes which were being garnished. They even sent me home with a little box of yummy sweets.
After my morning at Kiwi Kitchen I was taken to all 3 university kitchens in Canberra and got to meet Tom's apprentices. They were all really nice. I was then driven back to the apartments where I had dinner at the restaurant and got ready for my first day at the National Press Club.
On the 15th April 2015 at 10:00am Tom drove me to The National Press Club of Australia. The first thing I got to do was make an apple turnover. I learnt how to make dry caramel and put the turnover together. I was shown around the kitchen and premises before working with Darren Tetley, Forest, English, Lance, Lilly and Georgia. We plated 100 meals for a lunch function for people from Government House. The teamwork was great and we had lots of fun.
Later in the day I got to help plate and cook food for the dinner service at 9:30pm. We were finally able to start cleaning down and Lilly took me back to the hotel by 10:30pm. I was pretty tired by then but loved my day working with these great people in an awesome kitchen.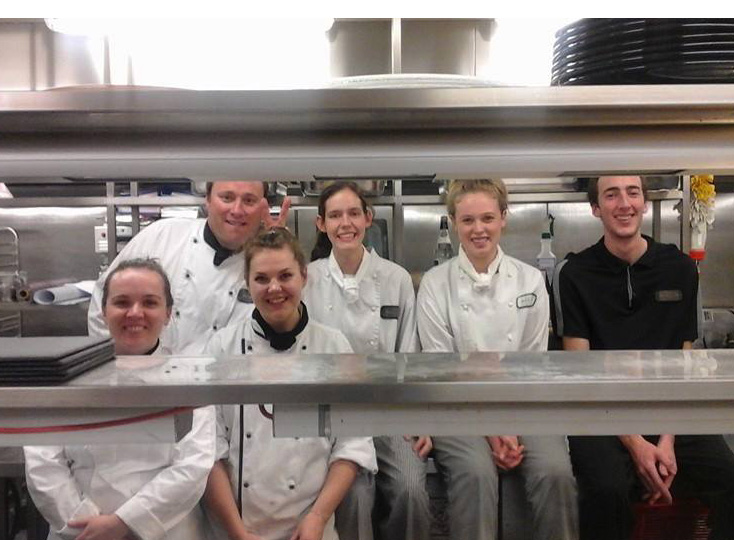 On the 16th April 2015 at 10:30am I walked to the National Press Club. I worked with the girls, helping them warm and plate dishes. I learnt some new ideas on how to plate desserts and make savoury Panna Cotta…

We had an interesting lunch of Rabbit and mixed vegetables, which was surprisingly very tasty. A big thank you to Darren Tetley and his team. Darren is a great chef to work under. I had the experience of a lifetime and would definitely be back for more. I had an awesome two days!
On the 17th April 2015 Tom showed me around Canberra and took me to the local fresh food and produce markets. The bakeries in the markets had lots of pastries and cakes for sale which I had helped make at the Kiwi Kitchen. I also saw the fish markets and the meat markets.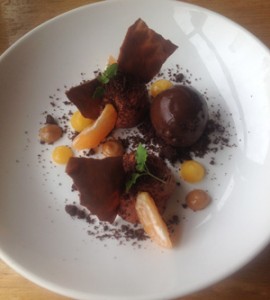 To finish off the day Tom showed me a few places of interest which included "Essentials" where you can buy food and equipment for commercial kitchens. We also had lunch at the restaurant his son used to work at in Ainslie. It was called PULP. At this restaurant I had a dessert of "Textures of dark chocolate with mandarin and caramelised milk", which looked amazing and tasted delicious.
This week was a wonderful experience and something I will never forget. I loved the food, the people and Canberra.
A big thank you to Tom McDonnell for showing me around and taking care of me. Thank you to Darren Tetley for an experience I will never forget in the National Press Club of Australia and Vanessa for a great learning experience in the Kiwi Kitchen. Also a very big thank you to HTN and Suzi Tubic for giving me this opportunity.
Comments
comments