What is Your Culinary Career?
An artist works in one or more mediums – paint, metal, wood, clay, glass, and even paper. The term "artist" is applied to many types of people, too – athletes, musicians, and actors.
A chef also is an artist, only the medium is food, the canvas is a plate, and the studio is a busy kitchen. A chef is a culinary mastermind who deftly balances ingredients, flavours, textures, and appearance.  But unlike most artists, the chef also creates delectable masterpieces while working with (and against) the clock.
Born to Chef?
Some people seem born to cook.  They have an innate sense for blending foods and seasonings that tantalize the senses and gratify the appetite.   But being a gifted cook is not necessarily synonymous with being a gifted chef.  Let's look at the difference between a cook and a chef:
Cook:  a person who knows, or is trained to a master level of food preparation, but usually takes direction from a chef.
Chef:  a person who is trained as a master of culinary forms.  The chef typically provides innovations to food preparation and presentation, and planning menus.
Not only must the chef be a culinary master, he or she is in charge of every other chef and food preparation and serving staff member in the kitchen.  The chef must be able to do some or all of the following:
Estimate food and labour costs.
Order food supplies.
Monitor the quality of preparation and presentation of all dishes.
Demonstrate/advise on techniques and cooking procedures.
Prepare and cook food.
Discuss food preparation issues with staff including dieticians, managers, kitchen and wait staff.
Select and train staff.
Oversee food preservation.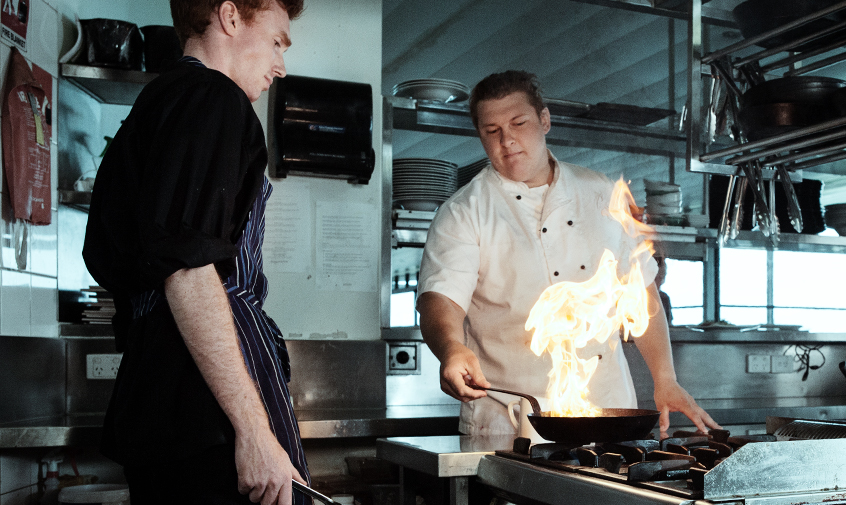 If You Can't Stand the Fire…
The adage ends, "get out of the kitchen!"  Consider whether you have these characteristics and skills:
Creativity
High standards
Leadership skills
Ability to work in and tolerate a high-pressure environment
Strong organizational and multi-tasking skills
Discipline
Willingness to work long and flexible hours
Becoming a chef
Some future chefs will gravitate toward the growing hospitality and tourism industry, focusing on work in luxury hotels and upscale resort centres.  Others will seek opportunities in the corporate world as on-board chefs or as a personal chef to individual clients. The possibilities are endless…
If you're interested in becoming a chef, it's a good idea to peruse restaurant job advertisements.  You will notice that many of them require certification, an apprenticeship, and experience.  Having some restaurant or other food preparation is a good start to your culinary career but individuals intent on building a career as a chef will likely need to completing studies and certification from a training organisation.
Australia is fortunate to have excellent culinary and pastry arts institutes, chef training programs, and restaurant management schools.  Future chefs not only study the culinary arts but also hospitality management curriculums.  Management courses can help make the chef's education more complete by learning the business and management principles used throughout the food industry.
Climbing the Culinary Ladder or Specializing
Chef: an abbreviation of the French term chef de cuisine – chief, or head of the kitchen.
The restaurant kitchen typically is structured as a strict hierarchy with the chef as the leader. Modelled after the French Brigade system, this system is instituted to make every function of the kitchen run as smoothly as possible.
There are 10 primary stations staffed by chefs at various skills levels. In some restaurants, a single chef may be responsible for more than one station.
Saucier: the sauce chef (frequently the highest chef level, reporting to the head chef or sous-chef).
Poissonnier: the fish chef.
Rotisseur: the roast chef.
Grillardin: the grill chef.
Friturier: the fry cook.
Entremetier: the vegetable chef.
Potager and legumier: the potager chef makes the soups and the legumier is in charge of preparing the vegetable dishes.
Tournant: the all-purpose chef who moves from station to station, assisting with any tasks and stepping into another station as workload or absence demand. The tournant must have an extensive knowledge of each other station.
Garde manger: the pantry chef, in charge of most of the menu's cold dishes.
Boucher: prepares all meat and poultry for delivery to their respective preparation stations.
Patissier: the pastry chef.
Any of these chef levels can be a career in itself. Advanced Culinary study is the perfect time to explore each area and perhaps discover a passion for a more specific aspect of cheffing.
But one thing is most likely during your studies and early career – you probably will spend a lot of time doing many different jobs, from the most menial food preparation tasks to menu planning.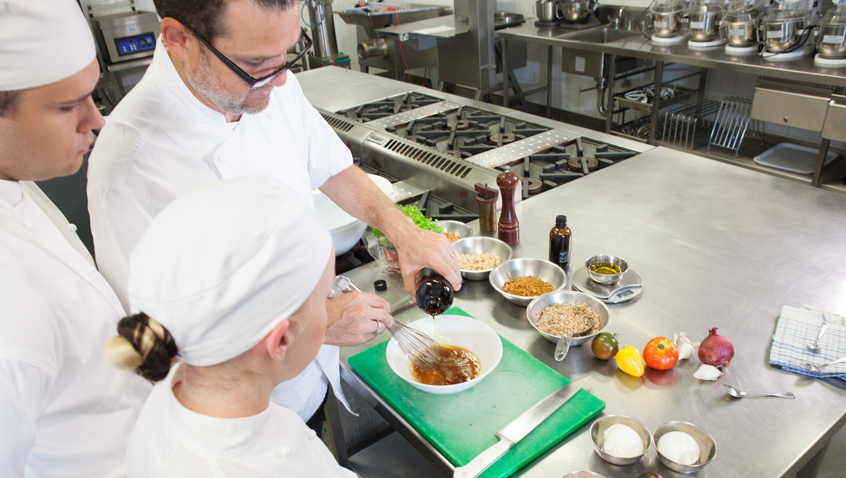 Career Opportunities Are Growing
Now may be the best time in Australia to train as a chef. The restaurant industry grew by 3.17% in 2013. There currently are more than 75,000 chefs working in Australia's restaurants, pubs, and resorts. Now is the time to define your culinary goals if you wish to join the ranks of in-demand chefs or become a future supernova of the culinary world.
The Australian Workforce and Productivity Agency (AWPA) stated in the 4th quarter of 2013 that approximately 550,000 people in the food and beverage industry generated 4 percent of Australia's GDP. The need for qualified chefs continues to grow proportionally with Australia's tourism industry.
Another influence on the demand for more chefs is the public's expanding awareness of food as an experience rather than "it tastes good or it doesn't" fuel. The increasingly popular television cooking shows have captured an avid audience of viewers who now demand more of their dining experiences. (Top Chef, Chopped, and Master Chef also have spawned chef groupies who follow their favourite chefs from restaurant to restaurant!)
If you want additional career inspiration, consider these recent employment findings:
The restaurant industry grew 3.1% between 2013 – 2014
Approximately 80.9% of employed chefs work fulltime.
Sydney, Melbourne, and Perth are expected to experience about a 60% skills shortage in chefs in 2015.
80% of employers expect chef applicants to have formal qualifications.
As of December 2014, the average salary for a head chef in Australia was AU$57,502 per year.
Few other industries offer as many career opportunities in as many diverse settings as the food industry. Chefs are needed not only in restaurants but also in healthcare, academic centres, military service, and niche food services.
Whether you are destined to be the culinary supernova, an iconic neighbourhood restaurant chef, or the darling of the pastry specialty world, a wonderful opportunity is waiting for you in Australia. Interested – apply online today.
Comments
comments