"HTN Peter Howard Culinary Scholarship winner announced at annual HTN Youth Skills Showcase"
Held at The Northern Sydney Institute Ryde Campus Ambassador Restaurant, the annual HTN Youth Skills Showcase was another night to celebrate the hospitality and food service industry. With a team of HTN apprentices led by their chefs and mentors, they catered to over 70 distinguished guests to show off their culinary skills. Drool worthy canapes such as the compressed apple, pork and toffee started the night off with some guests going back for thirds or fourths.
"I am pretty sure I saw Mitch Edwards from Porkstars go back for his fourth or fifth serve," laughs Master of Ceremonies for the evening Simon Marnie.
With guidance from HTN chef and mentors, the apprentices learnt from the chefs and vice versa.
"Every year, I am in the kitchen with our apprentices and whilst we teach them new skills, they always teach us not only about cooking but about the generation of chefs coming through," says Rod Andrews, Employment Consultant at HTN.
Peter Howard, HTN's Patron talked about the success and continuation of the industry being down to working hard and taking a chance, "if you want to be a masterchef, do it, you want to be a celebrity chef, take the risk. This industry will support you in more ways than you can ever imagine."
Taking out the prestigious HTN Peter Howard Culinary Scholarship for 2015 was third year apprentice chef Tristan Jan, from the well-known Newcastle restaurant Money Penny.
"I am very honoured and excited by the opportunities that this award has now opened for me. The idea of travelling and experiencing foods and flavours abroad will no doubt help me learn and develop further as a chef. I am so grateful to HTN and Peter Howard for awarding me the scholarship," says Tristan.
"What makes this event a success is everybody that comes to the night celebrates the apprentices, the industry the continuation of training and education for the future generations," says Michael Bennett, CEO of HTN.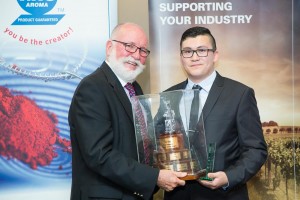 HTN could not do these competitions without the sponsors who support them year in year out.
For media enquiries or access to images, please contact Katrina Higham, Business Development and Marketing Manager P: 0408 247 078 or [email protected]
Comments
comments